Construction & Material ANKA Hoist are manufactured with the superior design ideas and modern elevator techniques. ANKA elevator has perfect performance records which are low in noise, high speed efficiency and economical. The new generation of frequency inverter with special design software to provide a stable transfer by regulating the acceleration / deceleration, which reduces the need for maintenance on equipment, and extends the life time of the system. The safety over-speed device and over-load features make the system reliable and even safer.
ANKA construction hoists for personnel and materials is being used in all kinds of applications. The ANKA construction hoists offer the most constructive vertical transport solution for all kind of low rise, medium and high rise constructions.
Typical applications can include all new construction, restoration, expansion and whenever it is a need for vertical lifting.Transporting both materials and passengers with a single or dual configuration, eliminate the need for separate personnel and materials elevators. Many industries use ANKA construction hoists for full-time operations, the purpose being to carry personnel, materials, and equipment quickly between floors.
ANKA Construction Hoist Features:-
Single Cage or Twin Cage
Cage Capacity from 1000kg, 1200kg, 2000kg, 2700kg to 3200kg
With Direct Motor Driven
Frequency Conversion Driven to Reach the Speed of 36 m/min, Middle Speed of 0-63 m/min, and High Speed of 0-96 m/min
Maximum Height is up to 450 meters
Provide Different Dimension of Cage on Special Demand
Most Electric Components & Frequency Converter are from Schneider
All of the above can be seen in action in our
PROJECTS
area, where we have pictures and descriptions of our most recent projects.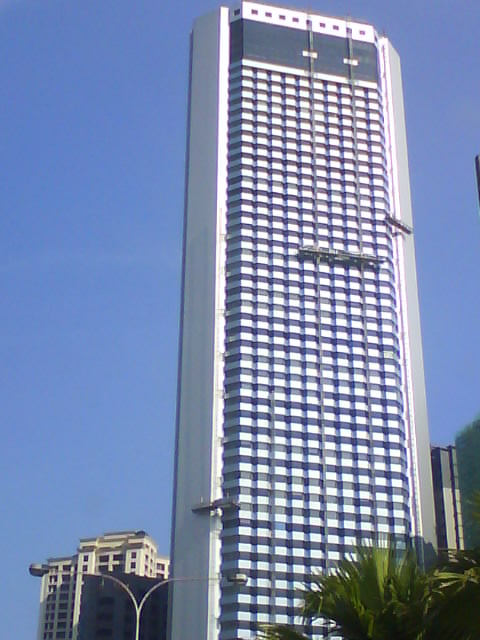 Refurbishment Project in Kuala Lumpur, Malaysia, 2010.
Work done:
Aluminum cladding
Using:
10 units Single Mast Climbing Work Platform

2 units Twin Mast Climbing Work Platform